Brandon and Katie
We met in college in March of 2013 through a mutual friend. I love Brandon's easy-going personality and the way he cares about those around him. I admire his work ethic, motivation and perseverance. I love that Katie shows deep empathy to everyone she encounters and has a love for going on adventures. I also love that Katie has a natural maternal instinct. Since we were young, both of us have been drawn to parenthood. We chose adoption because we have so much love in hearts for children and want to share that love.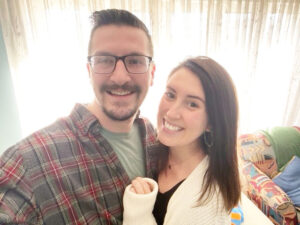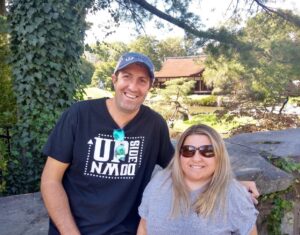 Casey and Rose
We met at work and have been together for ten years! We are very blessed to have personalities that gel so well together. When one of us is nervous, the other is calm. We always know how and when to make each other smile. It has always been an easy relationship between the two of us, our families have meshed so well from the very beginning. We are very happy together! We had decided early in our relationship that we wanted to be Mom and Dad. It felt right to us. We both grew up with loving parents and siblings and we were all in ready to be parents once we got married. Life is unexpected and after our marriage, we were not able to have children on our own. After that, it was a no – brainer- YES – let's adopt. We're so excited make our family home complete and raise a child!
Daniel and Danielle
We are Danielle and Daniel. We met while giving campus tours together in college. We have a sweet and energetic son who is 3 ½ years old. Danielle admires Dan's calm demeanor, his work ethic, and the love and support he shows his family. Dan respects Danielle's creativity, passion for personal growth, and her unwavering support of those she loves. We started the conversation about growing our family through adoption in 2018. With guidance from our doctors, it was advised we choose alternative ways to grow our family. We each individually envisioned adopting children someday and through a lot of discussion, we expressed our hope and desire to take the steps to grow our family through adoption.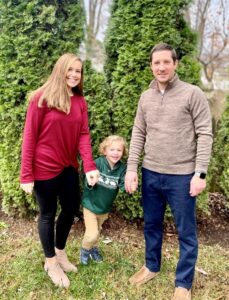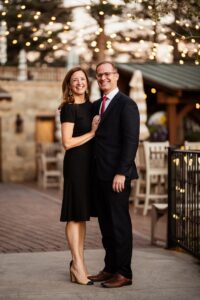 Joseph and Caroline
We are both lawyers, and in 2008, we met while working as attorneys for the city of Philadelphia, representing victims of crime. Caroline, who is an only child, grew up in Minnesota, surrounded by many of her cousins. Her parents, who love her dearly, taught her the value and importance of family. Jay, who is from a large family and has nine siblings, is dedicated to his family and puts the needs of his family and friends before his own. We believe we are patient, warm, nurturing, and optimistic people. We want your baby to feel safe, self-confident, and loved in our home. Everything we do as parents will be guided by that mission. We believe we were meant to be parents but haven't been able to have biological children.
Michael and Rachael
Michael and I met in 2007 and were married two years later. We have since welcomed three girls into our family – ages 7, 5, and 2. Michael works full time and I am a full-time stay at home mom for our children. We are an active family and spend a lot of our time playing sports in our yard and swinging on our swing set. It is very important to us to maintain a loving and faithful home, where our children can be themselves and are supported in and encouraged to follow their dreams. Building our family through adoption has been something that Michael and I have wanted since the day we were married. We promise to give your child all of the love, care, and support that they need to grow and thrive. We pray for your peace and comfort, and we hope you feel our family is a fit for you and your child.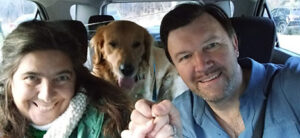 Michael and Rosanna
Rosanna and Michael grew up on opposite ends of the country, but the distance was no match for fate, and we met online. Two years later we were married and started our wonderful journey together through life. Rosanna truly is an incredible woman, with a loving, caring and motherly spirit, and she can best be described as a modern-day renaissance woman. I know Michael will be a good father, as he is genuinely kind and a good person who will always keep a child safe and protected. We have known we wanted to adopt since the day we met. Our sole goal is to love, nurture, and raise our child, and adoption is the path that will get us there
Chris and Caroline
We met while working across the aisle from each other at an electronics retail store. We were both finishing up college, and while not looking for a significant other at that time, God had other plans and brought us together. Chris loves that Caroline is the most loving and caring person that he knows and that her silly sense of humor and outgoing personality balances out his calm and laid-back demeanor. Caroline loves that Chris is extremely caring, calm, selfless and nurturing, with a strong dedication and loyalty to his family, and with the type of personality that draws you in. Family is very important to us both, and while we cannot have children of our own, the desire and longing to become parents never left us. We have a strong Catholic faith and believe God has led us to adoption.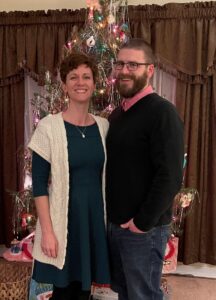 Stephen and Christina
Stephen and Christina met while volunteering with a local young adult group and have been together for almost six years. Christina enjoys Stephen's playful attitude and that he knows how to get down to business when necessary. Stephen savors Christina's cooking and the kindred spirit she provides on big life matters. After over three years of marriage, they're still a family of two, so decided to actively pursue adoption. They're very strong in their faith and have been blessed with so much that they want to share; they feel called to be parents.