Overcoming Misconceptions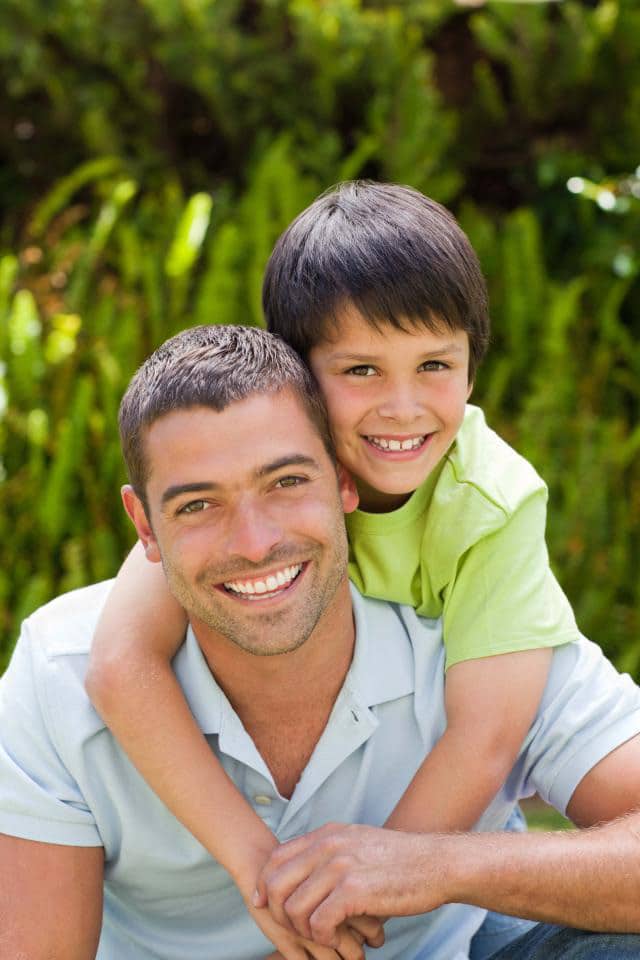 There are many misconceptions about what might prevent someone from adopting a child. People often think that their age, race, marital status, income or whether they own a home will automatically exclude them as adoptive parents. Jim Fitzpatrick, a parishioner of St. Francis Xavier Church of the Oratory in the Fairmount section of Philadelphia, thought the same, until he researched the process and eventually adopted his 7-year-old son Reece, a special needs child who had been in foster care.
Jim's journey toward adoption began with a vague inspiration a few years ago when he attended a spiritual retreat which encouraged him "just to be open." At the time, he says "I didn't consider adoption something someone who was single or my age did." Nevertheless, soon afterward, Jim received an email and saw a website about adopting children who were currently in foster care. He also saw a movie based on a true story about a teenager in foster care who made a personal appeal for a family to adopt him through his own website. Jim's heart opened to adopting a child from foster care, and in particular a child with special needs.
Jim then contacted Catholic Social Services (CSS), which eventually helped him to find Reece. In preparation, Jim spent over a dozen hours of classroom time learning about the foster care system and how to raise a child with disabilities, for which he felt well equipped as a physician. He learned to his great surprise that people in their 50's like him could adopt older children. After multiple interviews, criminal background checks, a financial review, submitted reference letters, and an officially approved home study by CSS, Jim was declared eligible to adopt. Case workers then helped him to seek out a prospective child to adopt through the Statewide Adoption Network.
Jim realized through his research that older children, sibling groups, children with disabilities, and those of mixed races are less likely to get adopted. So he offered himself as a non-relative, single male open to older children, mixed race children with or without disabilities and/or siblings. He was also open to adopting out-of-state, which is what ultimately happened. "I didn't want to do it just for me, just because I wanted to be a dad to a child who would otherwise have two parents and siblings," Jim said he first thought of his adopting a child, "but there's a shortage of parents for children in foster care and there is one more kid adopted for my having done it."
The Process of Building a Relationship
Jim met Reece a short time later and got to know him through a series of visits over the summer, some of which included swimming, one of Reece's favorite past times. He was introduced to Reece as Mr. Jim until he made more visits and Reece's foster mother explained adoption to Reece. In the meantime, a speech therapist helped Reece communicate with Jim via email.
When he realized the transition period for Reece might take longer, Jim felt fortunate to be able to temporarily leave his job so he could help his son adjust. Jim and Reece quickly bonded in their first few months together. They enjoy walks to the local WAWA, which Reece can now spell, take trips to see the trains at the Franklin Institute, and go to Mass regularly. They can often be seen walking or running hand-in-hand down the street with a look of pure joy on their faces – giggling and laughing. They play educational games on Jim's iPad, and pray together in a way marked by beautiful simplicity.
Jim helped Reece ease into the routine at St. Katherine's Day School, a Catholic special education school in Wynnewood, and into a support program at St. Joseph's University Kinney Center for Autism. Together, the two have navigated the holidays, meal schedules and taking a school bus. And Jim is there for Reece each day when he comes home from school. Jim recognized that one of the challenges Reece faced was developing social skills and making friends, yet he has seen Reece "blossom" in a short time, especially with his new extended family of aunts, uncles and cousins, as well as his classmates.
Jim had gone through his two-year adoption process without telling most of his family or friends. "I was hopeful, but I wasn't completely sure it would happen until the dates were set," he explained. "I'm a private person; I only told the three people who wrote reference letters until I was certain that Reece was in my home." Jim called his parents with the news when he and Reece were on the way to their house for a first-time visit. "They were surprised, but by the time we got there and they saw this awesome little boy, they just fell in love with him once they attached a face to the news," he said. Jim's friends and siblings had similar reactions; they were stunned, but congratulatory, inspired and proud.
Fr. Brian Gaffney, C.O. of St. Francis Xavier Church of the Oratory, has known Jim for 15 years. He said, "When I see Jim … how paternal he is with Reece, it strengthens my priesthood and shows me how boundless fatherhood can be. He sees his son as a gift from God and a treasure – we should see that too." Elizabeth Riordan, Jim's friend and neighbor, observes: "When I see Jim, I see a man who has been changed by love. I see the offering of oneself for another. I see the joy that just shines through him in offering himself to be a father to this little boy."
Changing the Life of a Child in Foster Care
Reece lived in just one foster home, but most foster children go through a series of homes, staying at some of them for just a few weeks. "Older kids intellectually know that adoption is a permanent thing, but still go through the testing of insecurity and commitment," Jim said. "I tell Reece a term that's often used in foster adoption: He's now in his forever home."
Jim advises others considering adoption: "Get lots of information to dispel whatever myths they might have. Find out about the foster care system and kids who need to be adopted. Learn how many kids never get adopted and the outlook when they're not – addiction, crime, prison, psychological disorders; …even children who are adopted as teens do much better with permanency and love."
"Many people, more than probably think they can, could adopt and fill the need for foster kids who need a permanent home," he added. "From the faith perspective, more children being adopted from foster care into faith-filled families will give all those kids the gift of faith too."
One of the biggest joys for Jim is "seeing Reece happy." "When he smiles, he just lights up," he said. "How different would my life be? Having lived alone all those years, now I'm completely focused on someone else – it's a big positive. It's all for the better."